Order Caudata
Salamanders
---

Click on the Map for an Enlarged View
Notophthalmus viridescens (Rafinesque) - Eastern Newt
Click Here for an Updated Distribution Map, Bibliographical Information on Reports of New County Records, and Other Data That Have Appeared Since the Atlas Was Published in 1996.
Description: Notophthalmus viridescens has a distinct terrestrial larval form and an aquatic adult form. Neither form typically has external gills. The terrestrial stage is commonly called an eft and is bright red or orange, with dorsal red or black spots. Total lengths of efts range from 3.5 to 8.6 cm. Skin of eft is very spinose. Adults are aquatic and attain total lengths of 5.7 to 12.2 cm. Adult dorsal coloration ranges from yellowish green to brown, with either numerous red spots bordered by black or with only small black spots.
Distribution and Habitat: The eastern newt occurs throughout the state. Adults inhabit ponds, pools along and within streams, oxbows, and flooded ditches. Efts are most often encountered under rocks and logs in upland forests.
Taxonomy: Two subspecies occur in Tennessee. Notophthalmus v. viridescens occurs in the eastern two-thirds of the state and N. v. louisianensis (Walterstorff) occurs in the Coastal Plain in the western one-third (Mecham, 1967). Page and Scott (1990) reported evidence of intergradation between the two subspecies in Land Between The Lakes, Stewart County.
---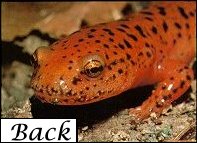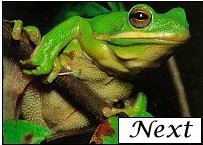 ---
APSU Homepage | APSU Department of Biology | APSU Center for Field Biology
This document was adapted to the WWW by Rusty Smith and Carol Mayo.