Order Caudata
Salamanders
---

Click on the Map for an Enlarged View

Cryptobranchus alleganiensis (Daudin) - Hellbender
Click Here for Image
Click Here for an Updated Distribution Map, Bibliographical Information on Reports of New County Records, and Other Data That Have Appeared Since the Atlas Was Published in 1996.
Description: The hellbender is a very large aquatic salamander that may reach a total length of 74 cm, although most adults are between 29.2 and 51.0 cm in total length. Trunk and head are dorso-ventrally compressed, and the tail is muscular, well developed, and laterally compressed. Between front and hind limbs are prominent, extensively vascularized lateral skin folds. Adults lack external gills, but have a single pair of inconspicuous gill slits on sides of neck. Eyes are small and without eyelids. Ground color ranges from olive brown to rusty orange. Irregularly shaped gray to black spots may occur on dorsum.
Distribution and Habitat: Although a few specimens have been reported from reservoirs, C. alleganiensis occurs primarily in medium-sized to large free-flowing streams in the Tennessee and Cumberland River drainages. Inhabited streams possess large rocks or logs that provide shelter and breeding sites. No Tennessee records exist from west of the Tennessee River. The Tennessee Wildlife Resources Agency (1994a) listed the species as in need of management and the U.S. Fish and Wildlife Service (1994) listed it as a Category 2 candidate for federal listing. However, the most recent federal list of candidate species (U.S. Fish and Wildlife Service, 1996) does not include the hellbender.
Taxonomy: According to Dundee (1971), only C. a. alleganiensis occurs in Tennessee.
---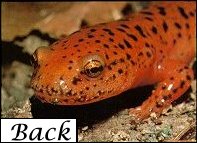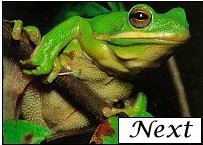 ---
APSU Homepage | APSU Department of Biology | APSU Center for Field Biology
This document was adapted to the WWW by Rusty Smith and Carol Mayo.